A temperature swing of nearly 40 degrees brings frigid teenage wind chill readings for the next 72 hours. Here's what you need to know.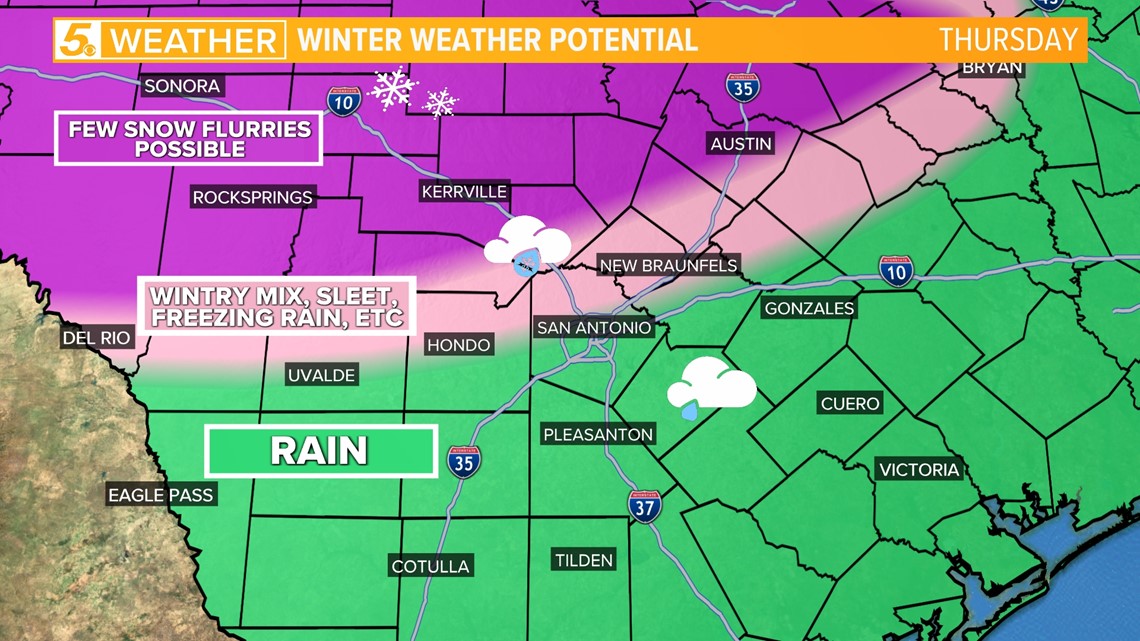 A risk of hypothermia exists for those who spend a lot of time outdoors this week without overlapping.
SAN ANTONIO – Get ready, San Antonians, for some of the coldest temperatures we've seen this winter season. A strong arctic front is preparing to cross our region on Wednesday afternoon, sending temperatures plummeting for the end of the week.
This arctic front will begin with rain, bringing possible isolated storms, before a huge swing of nearly 40 degrees as the rain potentially turns into a wintery mix by Friday. This cold air mass will persist through the weekend, bringing hard overnight freezes and teenage wind chill readings.
Here's what you need to know for the next five days
Wednesday (High 67 and Low 55): Fog is possible in the morning thanks to a lot of humidity in front of the front. Showers will also occur as the front moves through San Antonio in the late afternoon and early evening.
The winds – At the end of the evening, around 9 p.m., the winds will be gusting around 25 mph. Temperatures will drop into the upper 40s by midnight, allowing wind chill values ​​or "like" temperatures to drop into the 20s.
Hazards – On Wednesday, the main concern for San Antonians will be slippery roads. There could be isolated thunder overnight, bringing about 0.5 inches of rain for these isolated areas.
Thursday (High 38 and Low 35): Residents of San Anton will wake up to temperatures in the upper 30s and continue to drop throughout the day, allowing freezing rain/sleet to form until the front moves through the area in early evening. A few flurries are likely for the Hill Country.
Hazards – Ice accumulation is possible on bridges and overpasses, producing slippery driving conditions. A hard freeze is also possible on Thursday evening as temperatures will reach freezing conditions dropping into the 20s overnight.
Friday (High 35 and Low 22): You'll want to stay indoors on Friday as temperatures start in the low 20s with winds blowing at around 20 mph. This will produce temperatures "like" around 11 degrees. Brrr…!
In the afternoon, the winds will continue to blow with "like" temperatures remaining low in the 20s. As a result, another hard freeze is possible Friday evening.
Hazards – A risk of hypothermia exists for those who spend a lot of time outdoors without wearing diapers. So be sure to get out those hats, scarves and gloves.
Weekend: After Friday and Saturday morning, the coldest temperatures should be behind us. Saturday morning will still be in the 20s but will warm up to near 40 degrees by afternoon.
Sunday morning temperatures will still be in the high 20s, but will then warm to near 50 degrees in the afternoon.
Precipitation: Models are still at odds Saturday night as another system approaches our region. If precipitation occurs, San Antonio could have another chance for winter mixing.
This forecast is still in the development phase and we will refine this forecast as it gets closer.