Approved: MTSU Board of Directors Green Light for 1.78% Tuition Fee Increase for 2021-2022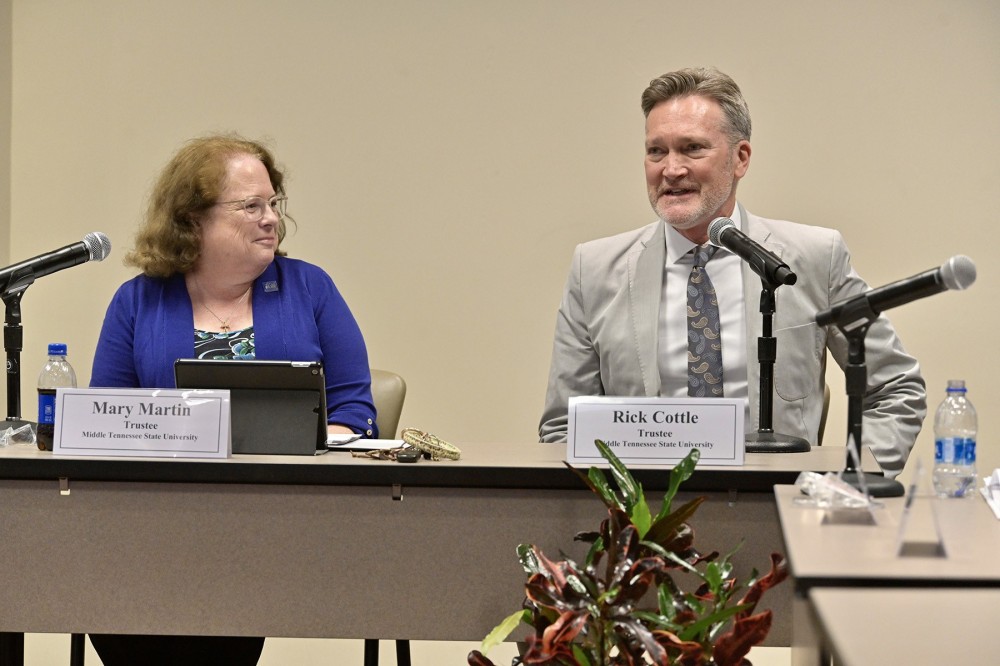 [ad_1]

Outgoing MTSU faculty administrator and math professor Mary Martin, left, watches incoming faculty administrator Rick Cottle, associate professor of fashion and clothing, makes brief remarks at the board meeting of administration of the MTSU held on Tuesday, June 8, 2021, inside the Miller Education Center on Bell Street. (MTSU photo by Andy Heidt)
MURFREESBORO, Tennessee – The Middle Tennessee State University Board of Trustees on Tuesday raised tuition and fees by 1.78% for the 2021-2022 academic year – but still remains the cheapest among the top three state universities.
The action translates into an additional $ 168, from $ 9,424 to $ 9,592 per year, for state undergraduates taking a full-time load of 15 credit hours per semester for the autumn and spring.
MTSU, which did not increase tuition fees in 2020-2021 due to the pandemic, requested the increase to cover inflationary costs, along with additional scholarships, new academic programs, technology upgrades, faculty promotions and student success initiatives.
Joey Jacobs, chairman of the board's finance and staff committee, said administrators looked at tuition fees at peer institutions and state universities before considering the increase.
"Even with the proposed fee increase, MTSU ranked as very affordable by comparison," Jacobs said.
The new rate is lower than the 2% limit on undergraduate tuition fees and fee adjustments authorized by the Tennessee Higher Education Commission. MTSU's tuition fees remain lower than at the University of Tennessee-Knoxville and the University of Memphis.
Meanwhile, Tennessee Department of Health Commissioner Dr. Lisa Piercey addressed the administrators and thanked President Sidney A. McPhee for MTSU's efforts during the pandemic and his work to get back to normal operations. from campus in the fall.
"I want you to know how special a team is," said Piercey. "When we went through this… there was no clear and fair answer to next to nothing. It has even become more important to have partners when we are managing this thing together. …
"You haven't just been an example to the state, we in Tennessee, and in particular the MTSU, have been an example to the nation."
In other actions, the trustees:
– Increased tuition fees by an additional 3%, still making MTSU rate the third lowest among public schools in Tennessee;
– Approved 22 faculty candidates recommended for tenure and 38 candidates for promotion;
– Approval of a single bonus for employees equivalent to six months of salary increase of 2% or $ 500, whichever is greater, for regular full-time and part-time employees as of December 31, 2020. The state has allocated the financing of the premiums;
– Welcomed Rick Cottle, associate professor of fashion and clothing, for a two-year term as faculty administrator, replacing math professor Mary Martin;
– And also welcomed Gabriela James, senior in communications, for a one-year term as student advisor, replacing graduate student Delanie McDonald.
[ad_2]