Delhi: Coldest day in 2 years, maximum temperature drops below 15 degrees Celsius | Delhi News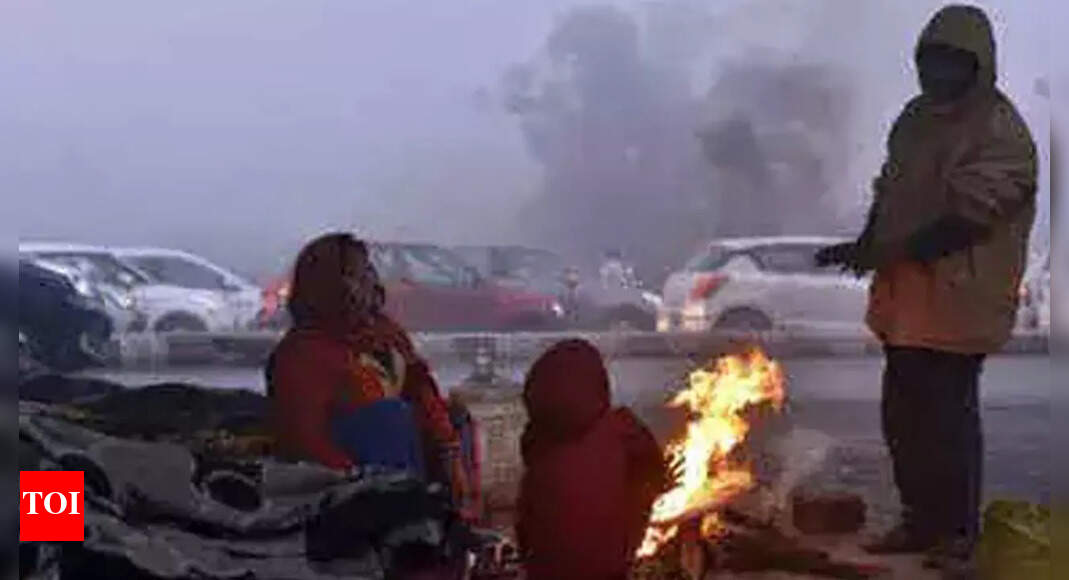 NEW DELHI: The maximum temperature at Delhi's main weather station, Safdarjung, dropped below 15 degrees Celsius for the first time in two years as the capital experienced the coldest daytime conditions since January 2020 on Saturday, with the sun behind a layer of mist for the second day and freezing winds chilling the Delhiites to the bone.
Safdarjung, where the high was five notches below normal at 14.8 degrees Celsius, experienced "cold day" conditions for the second day. However, several parts of the city suffered a "very cold day" with a high of 6.5 degrees or more below normal. These included Narela (10.7°C), Jafarpur (10.9), Palam (12.5), The Ridge (12.7) and Ayanagar (13.6).
An orange cold alert has been issued for Sunday. The last time the maximum fell below 15 degrees C in Safdarjung was on January 9, 2020 (14.5 degrees) during the record winter of 2019-20.
Like Friday, there was a layer of moderate fog or low clouds on Saturday during the day over Delhi-NCR, Punjab, Haryana, Uttar Pradesh and northern Rajasthan. It blocked sunlight from reaching the surface. Light winds also blow over the region. These conditions have led to a very cold day or cold day over Delhi," a Met official said.
It was the third "cold day" of the season after Friday and December 18. According to the IMD, a "cold day" is declared when the minimum temperature is below 10 degrees Celsius and the maximum temperature deviation from normal is 4.5 degrees or more. . A "very cold day" is classified when the maximum temperature is below or above 6.5 degrees.
According to IMD, a dense fog formed in Palam between 1:30 a.m. and 3:30 a.m. A layer of moderate fog formed over the city while visibility remained at 400m all day in Safdarjung. However, visibility was up to 1,000 meters at Palam until 10:30 a.m. and improved to 1,200 meters until the afternoon.
The weather department predicted moderate fog on Sunday morning and an 'amber' alert is in place as cold daytime conditions are likely in many places. Moderate fog as well as cold daytime conditions in isolated locations are also likely on Monday.
"A similar pattern of fog or low cloud over Delhi and other northwestern Indian states cutting off sunlight is likely to cause cold daytime conditions in Delhi on the 16th or January 17. However, as a disturbance from the west is likely to impact the plains, some improvement is expected from the afternoon of January 17," said RK Jenamani, senior scientist at the IMD.
IMD forecasts indicate that the maximum and minimum temperatures are expected to remain at 14 and 6 degrees Celsius, respectively, in the city on Sunday. Saturday's low was 6.1 degrees Celsius in Safdarjung, a notch below normal. There is a possibility of very light rain or drizzle over the city on January 21 under the influence of a disturbance from the west.
Air quality in Delhi, meanwhile, fell from "very poor" on Friday to "poor" on Saturday. The global air quality index (AQI) was recorded at 258 on Saturday against 348 on Friday.