ECPI University's 'VAX Pass' helps fully immunized students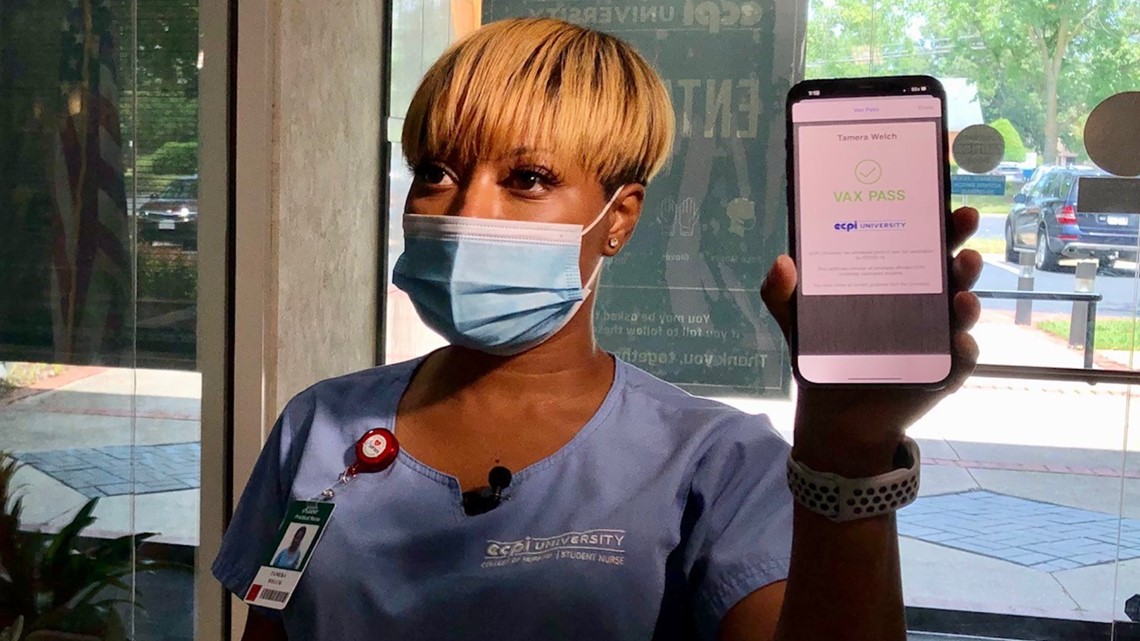 The VAX Pass allows fully immunized students to bypass COVID-19 screening processes on campus.
VIRGINIA BEACH, Virginia – Thousands of students at ECPI University receive digital vaccination certificates to ease the transition back to school.
The ECPI University VAX Pass displays on a student's phone and indicates whether they are vaccinated. Otherwise, some students may have to go through a longer selection process to enter the building.
The VAX Pass is an option and incentive for fully immunized ECPI University students.
"I just show my VAX pass and go," said student Tamera Welch.
Medical Career Institute campus president Michael Heck said students can access the school's app to get the pass.
"[A student] clicks on the VAX Pass [and] takes a snapshot of their vaccination record. It's uploaded, it's then reviewed by university administrators, "Heck said.
Heck explained why the university decided to create a vaccination pass.
"As the students get vaccinated, it gives them the opportunity to be able to provide us with their vaccination records. But it also allows the student not to have to stand in line to be checked. As a result, it brings them to their classroom, "Heck said.
Heck said students shouldn't be worried about the misuse of their immunization cards.
"Once we have [a picture of the card] one or two people here on campus are reviewing this to confirm and therefore it is secure in our database with no further access by other people besides myself and an administrative person here on campus Heck said.
Heck explained that students who don't get the pass will have to go through a screening process that could slow them down by a few minutes.
"I think having a system where there's an app where you can just download your immunization card, show it and continue is very handy," Welch said.
At present, over 2,000 students have the VAX Pass and that number is expected to increase to 10,000 during the summer months.
The ECPI University VAX Pass tool was rolled out three weeks ago and is in use at all ECPI campuses in five states.