Farm to Table Stars at Leelanau Grown | Food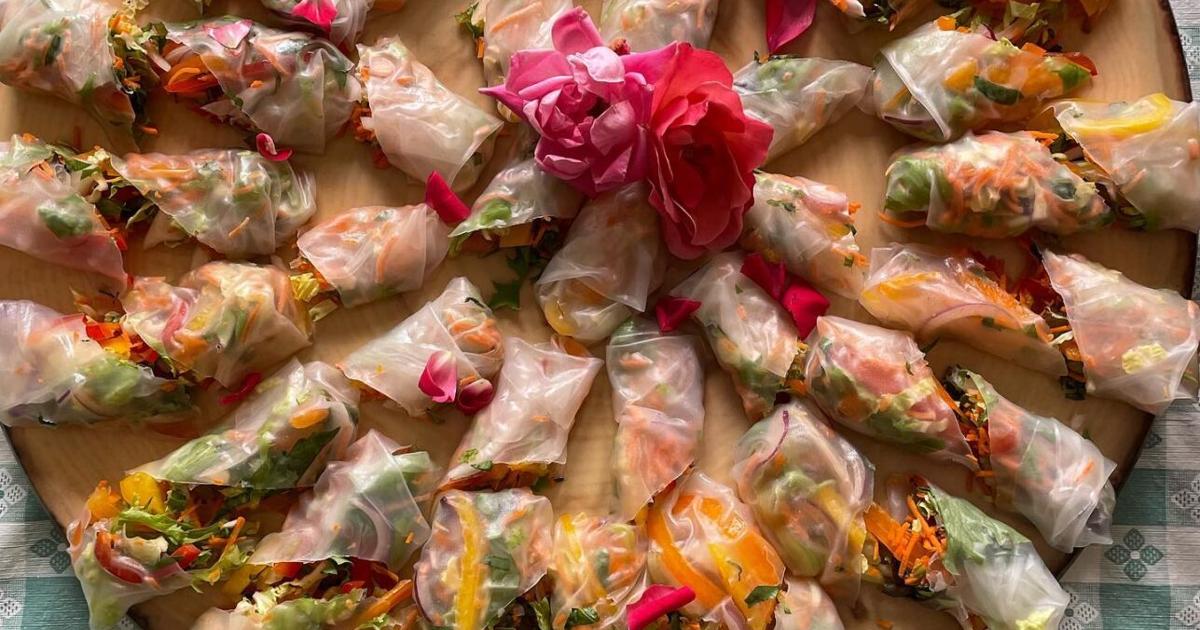 LAKE LEELANAU – A farm-to-table meal is served during the annual Leelanau Grown at the end of the month.
This is the main fundraiser for the Leelanau Children's Center, an early childhood education center in Leland.
Kristy VerSnyder attended the children's center when it was in the basement of Leland United Methodist Church and her mother was a teacher there.
She is co-owner of Island Thyme Catering and Event Planning, which will provide the farm-to-table menu for Leelanau Grown. She said guests can visit three main train stations for their dinner. This model allows them to accommodate allergies and dietary restrictions, she added.
"There's a bit of something for everyone," she said.
The Mediterranean table will include hummus, olives, stuffed grape leaves, lamb meatballs and baba ghanoush – often made with roasted eggplant, olive oil, lemon juice and tahini . Another section is Asian fusion, with vegetable rolls, beef and broccoli, chicken lettuce wraps, and other related items.
The final station, VerSnyder said, comes from their experience with the From the Ashes truck. They served wood-fired pizzas in 2020. Although they no longer own the truck, VerSnyder said they would make several flatbreads for Leelanau Grown, including Cuban and a variety of vegetables.
The menu, she said, includes ingredients from Loma Farm, Boss Mouse Cheese, Second Spring Farm and other local spots.
Leelanau Children's Center chief executive Heidi Kruse said their annual fundraiser "has always been about farm-to-table cooking".
The center does too, as Kruse said their working kitchen uses many ingredients that are donated from area farms. There, the children learn to serve themselves and to have a family meal.
Proceeds from Leelanau Grown are donated to a scholarship program. Kruse said the scholarships can help cover tuition for 3-year-olds entering the program.
"We try to serve all children, regardless of income," Kruse said. "Almost every child who attends the children's center receives a scholarship. Our goal is to raise at least $40,000 during the event.
Aurora Cellars co-owner Sam Simpson said he is hosting this year's dinner in support of the children's center, which "plays an important role in Leelanau County." Additionally, his grandfather helped start the center in the 1970s.
Leelanau Grown is scheduled for 6-9 p.m. on August 31 at Aurora Cellars. The main event features a rolling dinner, wines from local wineries, cocktails from Tonic & Lime and mocktails from Audacia Elixirs. Elizabeth Landry provides the music.
The circle of VIP winegrowers begins at 5 p.m. Guests can enjoy a tasting experience with Simpson Family Estate winemaker Drew Perry, Mawby Vineyards founder Larry Mawby and horticulture professor Paolo Sabbatini.
Tickets are $250 and include access to the Leelanau Grown main event. Kruse said people can use the code "EARLYVIP" to receive a reduced ticket price.
General admission is $125 until August 11 at MyNorthTickets.com.