#HurdleU – University of Iowa Track and Field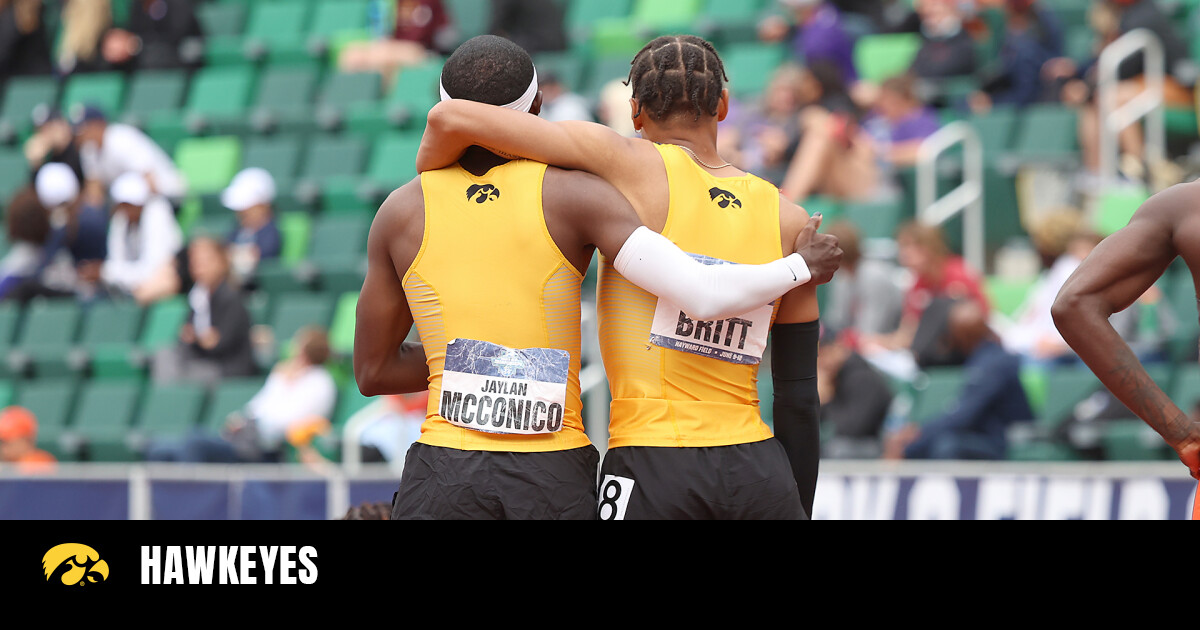 By DARREN MILLER
hawkeyesports.com
EUGENE, Oregon – Jaylan McConico ended his jumping career at the University of Iowa on a high note. His junior teammate Jamal Britt saved his best run for the most important moment.
Together, the Hawkeyes scored 13 points placing second (McConico) and fourth (Britt) in Friday's 110-meter hurdles final at the NCAA Championships at Hayward Field.
"You can never complain when you have two guys in the final and those guys are scoring big team points was awesome," said Joey Woody, Iowa director of athletics.
Woody knows awesome hurdles races. Twenty-four years ago, he won an NCAA Championship in the 400 hurdles. On Friday he looked like a proud dad as two of his prodigies helped the Hawkeyes finish their highest national team in more than five decades.
Iowa ranked 12th in 2021 with 19 points; the Hawkeyes were seventh in 1967 with 22 points. The hurdle duo's production provided the biggest boost on Friday.
McConico took the lead on seven hurdles, then Woody thought he had cleared hurdle # 8.
"When he got over that hurdle, it got him off balance," said Woody. "He has recovered well. "
"You can never complain when you have two guys in the final and those guys are scoring big team points was awesome."

Joey Woody, Director of Athletics, University of Iowa
McConico's time of 13.38 seconds was 0.15 seconds off his school record of 13.23.
"It was great to come and support the team one last time," said McConico, who transferred from Illinois in 2019. "The race went well and I did well. It's a bit hazy and I'm still working it all through. It was a good race and I was happy to finish second.
Robert Dunning of Alabama won gold in 13.25. Between McConico and Britt was Phillip Lemonious of Arkansas, who ran 13.39. Britt clocked 13.45, the third fastest in school history. He had previously run a 13.45 assisted wind.
"It was a solid day, I felt better than the whole season," said Britt, who finished second in the 60 hurdles at the 2021 NCAA indoor championships. "I'm happy with my fourth place – these guys are good guys. here and everyone is trying to run fast to win and compete. "
Also a 400 hurdles, Britt has spent the season looking for a tempo in both events. He passed very close to find him on Friday.
"He fought between the pace of the 400 hurdles and the pace of the high hurdles and it's a tough thing to do," said Woody. "It was the best I've seen him watch in the warm-ups. Things started to kick in and I thought he was good to go if he was just focusing on himself and had a great run.
Iowa was the only school with two finalists in the 110 hurdles. After the semifinals, McConico took to social media and asked if that fact, along with past successes, made Iowa "Hurdle University". McConico and Britt's Friday performances served as validation.
McConico and Britt now look to the Olympic trials which will open on June 25 for 110 hurdles.
"I'm going to prepare for the next race now," said McConico.
"I still have to clean things up, but I'm ready to go to practice," said Britt.
"It will be a battle with these same guys and all the pros," said Woody. "My goal is to get three of these guys (including former Hawkeye Aaron Mallett) to the Olympic Trials final."
After crossing the finish line on Friday and taking a look at their official times and placed on a top scoreboard, Britt and McConico hugged and continued walking the track.
"It speaks to our program and the work we do every day," said McConico. "To be able to go out and finally see everything flourish at the national championships."
They understand that there will be more one-on-one battles on bigger stages. And no matter what happens in the future, McConico and Britt also realize how much they have advanced the reputation of Hurdle U.