KU Plans To Offer Hikes In Tuition, Meals And Accommodation, CFO Says | New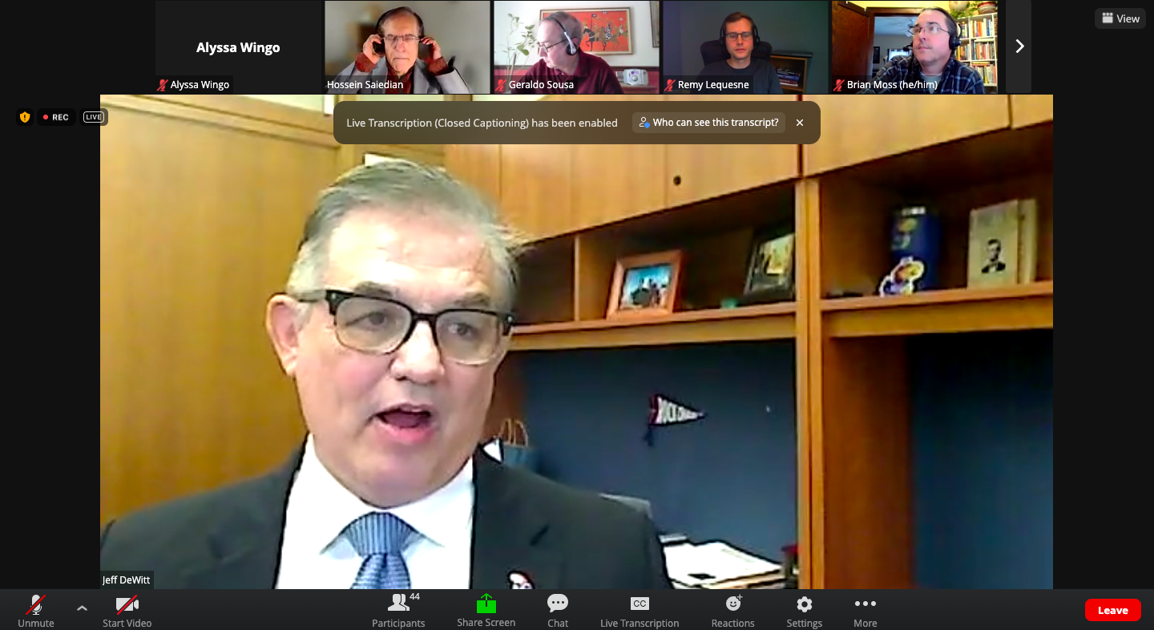 The University of Kansas plans to ask the Kansas Board of Regents for a 4% tuition hike and a 2-3% increase in the costs of meals and accommodation if the university does not generate more revenue, said KU CFO Jeff DeWitt at a press conference. Meeting of the University Senate Thursday.
DeWitt said this was in part because the university was receiving less state funding amid a $ 25 million structural deficit.
Although higher education received federal funding, KU received less than it should have received of the $ 52 million provided to Kansas universities, DeWitt said. KU received $ 10 million of that amount due to a KBOR formula decision when she should have received $ 20 million, he said.
"So we received a lot less than our normal share of that money," DeWitt said.
Although the KU used part of that $ 10 million to cover the deficit and the impacts of the pandemic, if the university gets its fair share of funding, it could better help it manage the structural deficit for 2023, DeWitt said.
DeWitt isn't sure if they will end up raising tuition fees, as KBOR might not allow it. The KBOR has not allowed the university to increase tuition fees in recent years, and if the KU can increase its income by then to cover the 4% increase, it might not apply for the increase. increased tuition fees, he said.
"If we increase by 4%, we might not ask for tuition, but if we don't grow at all, we need a 4% increase in tuition or a combination of the two," DeWitt said.
When the state cut funding for the KU, the university tried to increase its income by increasing tuition fees, especially for international students, DeWitt said. However, he said the university was unable to maintain enrollment, so it compensated for the tuition, which ended up keeping its income at a stable level.
"It's like we were trying to increase revenue, but we couldn't keep enrollment, so we started cutting tuition, and then we stayed stable," DeWitt said.
Inflation and the deterioration of campus buildings are other drivers of the university's deficit, DeWitt said. Inflation has made it difficult but necessary to increase costs for things like accommodation and meals, he said.
"We are making reductions almost every year because nothing is going up and costs are going up. Inflation is starting to hit a lot harder, "he said. "I hope it's temporary, but I'm not sure if it's or not."
For example, the cost of food in college rose 18.6% due to supply chain disruptions, DeWitt said.
Budig Hall is experiencing roof and ceiling leaks and many scholarship halls on campus are experiencing similar structural issues that will cost the University dearly to repair, DeWitt said.
"Our university facilities are getting older and older. We're more into reactive maintenance than preventive maintenance, "DeWitt said. "We have situations like some of the scholarship halls – they're starting to leak roofs and walls and other facilities that need to be fixed."
Student body vice president Ethan Roark said an increase in the cost of housing makes off-campus living a more financially viable option for students.
"How can we continue to raise student accommodation rates when it seems like large-scale gentrification is going on on our campus?" Roark said.
Roark said campus living spaces like the Stouffer Place apartments are under construction and are more expensive to live in, while more affordable places like Oliver Hall have been demolished.
"We've seen Stouffer Place apartments being set up – those living areas that cost over $ 6,000 for a semester to live in," Roark said. "And we are demolishing other buildings like Oliver, which were primarily used to benefit low-income and marginalized students on this campus."
Housing is in need of funding due to the impacts of COVID-19 and deteriorating facilities, DeWitt said. However, the University is not allowed to financially support accommodation or meals under the KBOR policy, which is why it increases accommodation costs.
"Housing has been hit hard financially by COVID, and KBOR has a policy that the university cannot provide assistance, that housing must be self-sufficient, and meals must be self-sufficient," DeWitt said.
DeWitt said if the university didn't increase housing costs, it wouldn't be able to pay to repair buildings to an appropriate level of efficiency, but they increased the cost as little as possible.
"Reserves are below the level they would need to be sustainable," DeWitt said. "We need good quality housing in the future so that we can increase our enrollment and be attractive to people who come to our campus, to students."
Student Senate member Mary Morrison said the university should consider increasing hourly wages for students so they can afford any increases in tuition, meals and accommodation that may arise.
DeWitt said he is aware of the issue and is meeting with KBOR in November to discuss the possibility of asking the state for funding to be allocated to increase employee compensation.
"Work is a real pressure in this country right now, including universities," he said.
Graduate Student Corps vice president Hollie Hall said graduate student assistants earn less than unionized graduate teaching assistants and asked if the university would address this issue in its budget.
"Some of these graduate assistants are making $ 10 less per hour than the RGTs currently at $ 22.83, I think the RGTs are making," Hall said.
Being able to pay everyone a living wage at KU has been a top priority for the University, as they are also considering asking KBOR to allow a 2% cost-of-living adjustment for employees, said DeWitt.
"If we pay less than everyone else, we are less likely to have graduate students, and a lot of our growth opportunities are probably in higher education," DeWitt said.
DeWitt said part of the effort to address budgeting issues and cuts was increasing the University and the total number of student credit hours. He said the way academic units are allocated funds is through the number of student credit hours in order to incentivize the units to grow, especially by adding online courses.
"You get your student credit allowance money based on what's left in the pot," DeWitt said.
However, there is roughly $ 17-20 million in the budget allocated to units that cannot support themselves solely through hourly-based student credit funding, such as music and special education, has DeWitt said.
"You can't be so short-sighted and say it's all student hour credit, although that's the main driver because that's where our money is going to come from," DeWitt said. "But you have to recognize that some units are going to need grants."
By getting academic units to offer more courses online, the university hopes to increase enrollment and income, DeWitt said.
Kyle Velte, associate law professor and member of Fac-Ex, said she agreed the online avenue would grow the university, but was concerned the law school could offer around 10% of its courses online. .
"Our dilemma at law school is that the American Bar Association accredits us to be in good standing and has a very low cap on the number of courses law schools are allowed to offer online," said Velte.
DeWitt said cases like law school are the reason the budget accounts for money for academic units that are unable to increase their student credit hours, especially online.
DeWitt is working on a strategic enrollment management plan to increase student credit hours.
These issues will be discussed further at the next KBOR meeting scheduled for November 17th.