Pace University will present the documentary Tide to Table at the Jacob Burns Film Center on May 10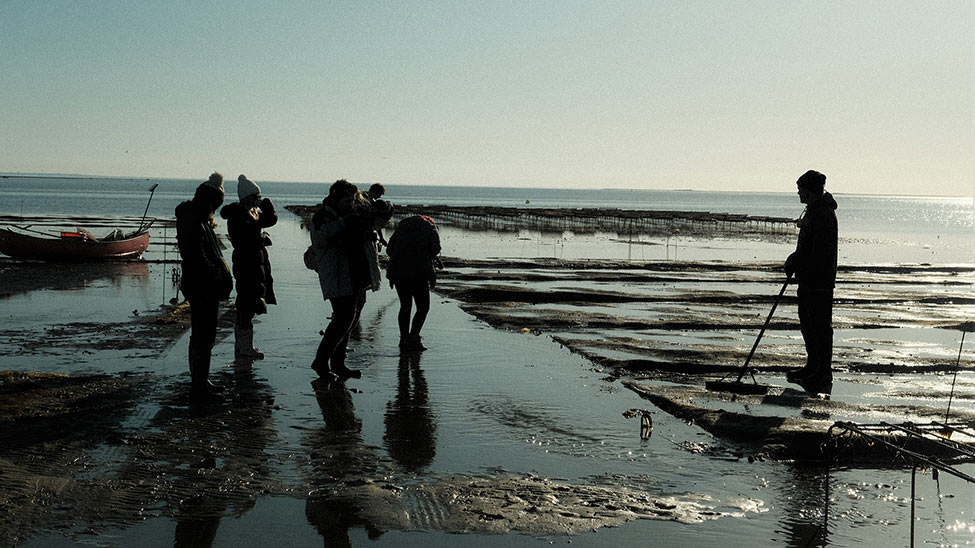 The PaceDocs team focus their film on the remarkable journey of oysters, their breeders and their role in cleaning up the water
Pace University's documentary film team – PaceDocs – is about to premiere From tide to table: the remarkable journey of oysters at 7:00 p.m. on May 10 at the Jacob Burns Film Center.
It will be the program's first in-person premiere since 2019, before the pandemic, and continues a distinguished tradition of producing documentaries that shine a light on important environmental issues. Complimentary reception and screening tickets are available, but space is limited.
Tide at table documents how oysters depend on the ebb and flow of the tide for their flavor. An oyster can filter up to 50 gallons of water per day; their survival is determined by their farmers, deeply rooted in their tradition and connection to the sea. The documentary, filmed on location across the flats of Cape Cod, the shores of Connecticut's Long Island Sound and the urban waterways of New York , features scientists, historians, shellfish harvesters and farmers. It explores the serendipitous relationship between nature, oyster farmers, modern aquaculture technology and a movement to better understand their ecological value, while showing how oysters are thriving in areas such as Cape Cod and being restored to once depleted areas such as than Connecticut and New York. The city as a means of improving water quality.
"The PaceDocs team, under the direction of Professor Maria Luskay, has once again produced an extraordinary, meaningful and professional film," said Marvin Krislov, President of Pace University. "Tide to Table" is another great example of the hands-on experience and valuable environmental lessons Pace students receive when taking this course. I marvel at the consistent excellence and talent of this program and am incredibly impressed with this group of budding filmmakers.
Picture
The documentary is produced by Professors Luskay and Lou Guarneri. The popular course, "Producing the Documentary," is part of Pace University's highly regarded Dyson College of Arts and Sciences film program, which requires students to make a comprehensive environmental-themed documentary in 14 weeks. . In the process, they learn teamwork, problem solving, research and organization, as well as technical skills such as lighting, sound, camera work, interviewing and others. real-life lessons needed to complete a film.
"It's rewarding to film with students on location and to share that experience with them again," said Professor Luskay. "Throughout this time, we have brought together a diverse group of students with busy work schedules. In the process, we not only learned firsthand about the plight of the oyster farmer braving the elements, but also the courage and determination needed to complete the film on a tight deadline. It was an incredibly rewarding experience for us.
The students, a mix of graduate and undergraduate students, marveled at what it was like to work and produce a professional-caliber film.
"One of the great things about this course is that it was the first time in my life where I spent consecutive days, even weeks, in a real cinematic environment," said Diego Mallens, a young student in cinema and in movie theaters of Miami, Fla. "It was interesting to learn more about it, and it was great to learn from the professionals. Within days of meeting the team members, we bonded over a common goal and produced a film we can all be proud of.
"It was a great hands-on experience," said Nicole Manning, a digital cinema and cinematography specialist from New Fairfield, Connecticut, who is exploring careers in film and television production. "It's the most practical and productive course you can take because you have to think like a professional and apply the skills you've learned in class. It was a great experience and something that I put on my CV and show to potential employers. »
In recent years, Pace filmmakers have produced documentaries around the world on a number of topics, including the importance of bees as pollinators in our food supply (2021); the impact of earthquakes in Hawaii (2019); the resilience of the people of Puerto Rico in the aftermath of Hurricane Maria (2018); Cuba at a cultural crossroads (2016); reviving the coral reefs of Curacao (2015); as well as many other poignant films.
"Dyson College student filmmakers have produced another moving documentary that looks at an important ecological issue," said Tresmaine R. Grimes, Dean of Dyson College of Arts and Sciences and School of Education. "Students learn and hone their craft while educating us all. I am so moved by the talents of this team and the captivating film they made. Congratulations to them and Professors Luskay and Guarneri for another impressive PaceDocs production.
About Pace University
Pace University prides itself on preparing its diverse student body for a lifetime of professional success through its unique curriculum that combines rigorous academics with real-world experiences. Pace is ranked the #1 private four-year college in the nation for upward economic mobility by Harvard University's Opportunity Insights, proof of the transformative education provided by the university. Since its beginnings as a school of accountancy in 1906, Pace has grown across three campuses, enrolling 13,000 students in bachelor's, master's and doctoral programs in more than 150 majors and programs, across a range of disciplines : arts, sciences, commerce, health care. , technology, law, education, etc. The university also offers one of the most competitive performing arts programs in the country. Pace has a newly renovated signature campus in New York City, located in the heart of bustling Lower Manhattan adjacent to Wall Street and City Hall, and two campuses in Westchester County, New York: One Picturesque Campus of 200 acres in Pleasantville and the Elisabeth Haub School of Law in White Plains. Follow us on twitter or on the Pace News site.
About Dyson College of Arts and Sciences
Pace University's liberal arts college, Dyson College, offers more than 50 programs, spanning the arts and humanities, natural sciences, social sciences, and pre-professional programs (including pre-med, pre-vet and pre-law), so many courses that meet the requirements of the basic program. The College provides access to numerous opportunities for internships, cooperative education, and other hands-on learning experiences that complement classroom learning to prepare graduates for career choices and graduate/professional study.