TCU 726 graduates in early fall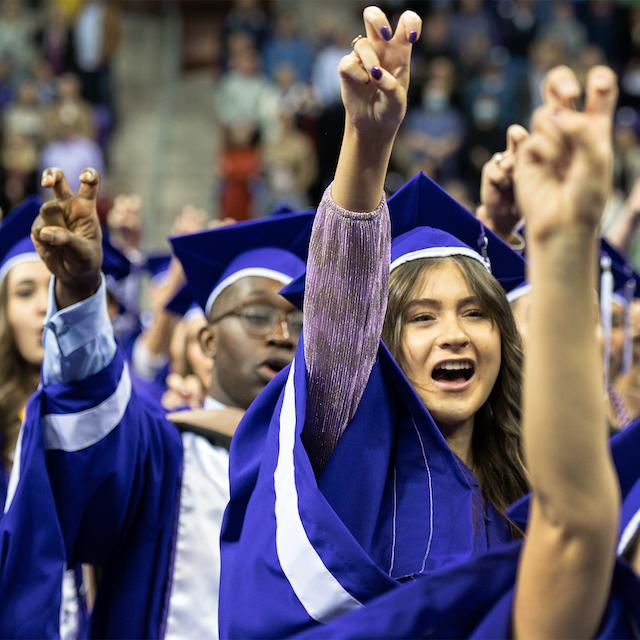 Texas Christian University and Brite Divinity School awarded degrees to 726 students from 43 states, including Texas, and 18 foreign countries in two official ceremonies held at the Ed and Rae Schollmaier Arena on the TCU campus. Candidates for the August and December diplomas participated in the ceremonies. The students received their diplomas from Chancellor Victor J. Boschini, Jr., who also gave the opening speech.
Of the total number of degree applicants, 532 graduated with a bachelor's degree, 109 were master's degree applicants, 85 were doctoral applicants, and nine were Brite Divinity School graduate applicants. One hundred and eighty-nine graduates with Latin honors: 85 cum laude, 76 magna cum laude and 28 summa cum laude. Five students achieved a perfect cumulative grade point average of 4.0.
The morning ceremony was particularly marked by the presentation of two honorary degrees to Opal Lee and John R. Giordano.
Opal Lee received an Honorary Doctor of Letters for her work as an educator and counselor as well as her tireless work with many charitable causes. Lee received a bachelor's degree from Wiley College (now Wiley University) and a master's degree in counseling and guidance from North Texas State University.
Lee is a longtime Fort Worth resident who is a renowned educator and civil rights activist. Among other efforts, she dedicated her time to helping economically disadvantaged people find housing and helped establish the Tarrant County Black Historical and Genealogical Society. She became best known for her campaign for Juneteenth – the day the enslaved black freedom enforcement in America reached the shores of Galveston, Texas – to be a national day of celebration. That day came to fruition this year when Lee was 95 years old.
John R. Giordano received an honorary doctorate in musical arts for his long career as a conductor, performer, composer, arranger and teacher. The former TCU student was Music Director and Conductor of the Fort Worth Symphony Orchestra for 28 seasons and is now Music Director Emeritus. He founded the Fort Worth Youth Orchestra, which performed at Carnegie Hall and toured Mexico, Spain and China. As director emeritus of the Grand Fort Worth Youth Orchestra and a professor at TCU and other institutions, Giordano not only brought music to the world, but he also actively participated in its dissemination in the world. next generation.
Giordano received his Bachelor of Music and Master of Music from TCU and in 1996 he was recognized by the Board of Trustees with the Piano Wing name of the Mary D. and F. Howard Walsh Center for Performing Arts. In 2009, the Cliburn presented the Jury President John Giordano's Discretionary Prize in recognition of his dedication and dedicated leadership to this international piano competition.
The morning ceremony brought together 320 graduate students from AddRan College of Liberal Arts, College of Fine Arts, School of Interdisciplinary Studies and Neeley School of Business. The afternoon ceremony highlighted 406 candidate graduates from Brite Divinity School, Bob Schieffer College of Communication, College of Education, College of Science & Engineering, and Harris College of Nursing & Health Sciences.