'Track Geek' Keenan-Kirkpatrick gives back to Tokyo Olympics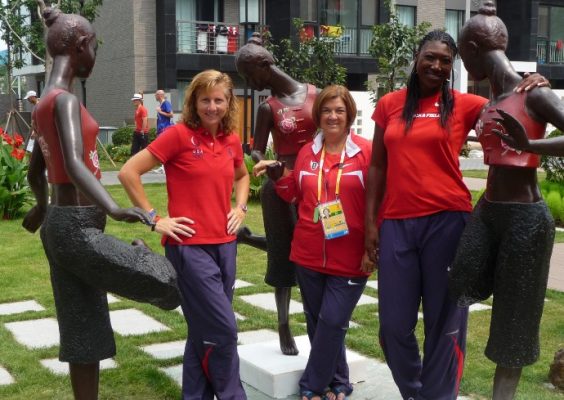 At the 2008 Beijing Summer Olympics, Team USA's Shalane Flanagan won a bronze medal in the 10,000-meter race that didn't end until late on a Friday night. Flanagan had to take a drug test after the race and had to run a mile on the track to warm up.
Kimberly Anne Keenan-Kirkpatrick, then assistant coach of the United States track and field team and now deputy director of sports and senior administrator at Syracuse University, had to negotiate – in Chinese – with stadium security guards to allow Flanagan and her husband to run. Track. By the time they were ready to leave, all transportation to the Olympic Village had stopped, so Keenan-Kirkpatrick – speaking Chinese again and after a few failed attempts – finally convinced a taxi driver to take them back.
It was now around 3 a.m., but before Keenan-Kirkpatrick fell asleep she found a masseuse for Flanagan and food from the dining room for the three of them.
Just another day at the Olympic office, and Keenan-Kirkpatrick didn't want it any other way.
"I have always been passionate about sport; I've been passionate about the track since day one, when I got involved in the sport as a runner, "said Keenan-Kirkpatrick. "For me, the best way to give back to sport is to be able to help our athletes perform at their best. "
Keenan-Kirkpatrick will give back to the postponed 2020 Olympics in Tokyo again. She has been chosen as the team leader and will assist eight athletes in four events: the 20 kilometer walks for women and men on August 5 and 6, and the marathons for women and men on August 7 and 8.
One of the male marathoners is Abdi Abdirahman, who will compete in his fifth Olympics and, at 44, is the oldest American runner to be on an Olympic team.
"These Olympics are so important to the athletes who put their lives on hold for a year," said Keenan-Kirkpatrick. "For athletes like Abdi, they might not have another Olympics. Knowing how hard they work and how they had to put everything aside to make it happen and fulfill their dreams, you want to see them make the most of this experience.
A life sentence
Track and field star at Kent State University, Keenan-Kirkpatrick won the Bob James Memorial Graduate Scholarship of the Mid-American Conference (MAC) and placed second in the 5,000-meter race at the championship in the MAC room during his last year. She held coaching and administrative positions in the athletic departments of Drew University, Lafayette College, Kutztown University and Seton Hall before joining Syracuse University in August 2015.
In Syracuse, Keenan-Kirkpatrick is the athletic supervisor for women's basketball, women's lacrosse, men's soccer, and cross-country / track and field. In addition, she liaises with the University's Office for Equal Opportunities, Inclusion and Resolution Services. This year, she will also be chair of the NCAA Olympic Sport Liaison Committee.
Keenan-Kirkpatrick has been an integral part of the US track and field team for over 15 years. She was an assistant coach for distance runners at the 2005 World Championships and the 2008 Olympic Games; Chief Women's Director at the 2011 Pan Am Games: and Director of Track and Field events for the United States Men and Women at the 2015 Pan Am Games. She also served an eight-year term as Chair of the Women's Committee of the United States. long-distance running and remains a member of the executive of this committee.
Keenan-Kirkpatrick did not seek a position at the 2016 Olympics in Rio de Janeiro, Brazil, as she was in transition to her job in Syracuse when nominations were expected. But with the blessing of athletic director John Wildhack, Keenan-Kirkpatrick applied for a managerial position for the 2020 Olympics in 2018.
During past Olympic Games, six managers are selected. In Tokyo, that number was reduced to four and Keenan-Kirkpatrick was initially chosen as one of two alternates. But with the expected scorching temperatures in Tokyo, the marches and marathons have been moved to Sapporo in northern (and cooler) Japan, and Keenan-Kirkpatrick has been added to the team that will accompany American athletes to Sapporo.
Keenan-Kirkpatrick will leave the United States on July 30, arrive in Japan on July 31, and go through what is expected to be a six-hour check-in at Tokyo Airport, where she will show her credentials and proof of her COVID-19 vaccine, and get tested for COVID-19 and wait for those results. Depending on the space available, she may be able to spend a night in the Olympic Village in Tokyo before flying to Sapporo on August 1.
"When we arrive in Sapporo and the host hotel, we are not allowed to go out in public or use public transport, we will have all our meals in the hotel restaurant and we will only be able to use Olympic transport. . to and from the venues, "says Keenan-Kirkpatrick." There is a park nearby that we will have access to with a track and trails for practice and that will be all until we get to the venue. events."
Helping athletes to be "the best they can be"
While this "bubble" existence may be overwhelming for some of the Olympic participants, Keenan-Kirkpatrick says the last year of traveling with the Syracuse University women's sports teams has prepared her for whatever she will face in the world. Japan.
"When we were traveling, we were not allowed to go to restaurants. The coaches had to pick up the food or have it delivered, "says Keenan-Kirkpatrick. "We've had to live this way all year round so I have enough experience in this area and I don't think I'm going to feel the tension other people might feel.
"I'll be bringing a few books and a few decks of cards, so we'll keep the athletes busy and entertained and try to make sure they're safe," she says. "Everyone there (with their group) will only be together to help keep the athletes safe, so it won't be as much of a concern."
Of course, these Olympics have raised a lot of concerns, as cases of COVID-19 continue to rise in Japan and Tokyo has entered a new state of emergency that will last at least on August 22. In the week leading up to the games, COVID-19 cases began to appear throughout the Olympic Village and within Team USA.
The International Olympic Committee has already banned spectators from almost all venues, but Keenan-Kirkpatrick says the games remain important to Japan and the world.
"Obviously we won't be able to physically see things outside of the venues, but at least it's very important for this country that the world is watching the show they're going to put on," she said. "With everything that has happened in the world, showing that you can safely overcome the global pandemic we have faced over the past year and a half will hopefully be amazing for the whole world. "
Keenan-Kirkpatrick says the greatest pleasure of her track career has been walking with the United States team in the opening and closing ceremonies of the 2008 Beijing Olympics. She will not have the opportunity to do so in Tokyo, but she's none the less excited about it. Olympics and do what she loves the most.
"I know it sounds silly, but I'm so passionate about this opportunity to go back to working with these athletes and their coaches again," said Keenan-Kirkpatrick. "My job is to help them become the best they can be and the more comfortable I can put them, the better they can perform. "
Go for gold
Keenan-Kirkpatrick will be the USA team manager for the following distance runners:
20 km walk men (4:30 p.m. on August 5, Tokyo time): Nick christie, who won the Olympic Trials with a time of 1:30:48.
20 km walk women (4:30 p.m. on August 6): Robin stevens, who beat eight-time US outdoor champion and reigning Olympic Trials champion Maria Michta-Coffee by more than four minutes to clinch her Olympic spot.
Women's Marathon (7 a.m. on August 7): Aliphine Tuliamuk, who won the 2020 Olympic Marathon trials with a time of 2:27:23; Molly seidel, who, at 27, is the youngest American to join an Olympic marathon team since 1992; and Sally Kipyego, who won a 10,000-meter silver medal for Kenya at the 2012 Games.
Men's Marathon (7 a.m. on August 8): Galien Rupp, who is the only American to have won Olympic medals in the 10,000 meters (silver in 2012) and the marathon (bronze in 2016); Jacob "Jake" Riley, who placed second at the 2020 Olympic Marathon Trials with a time of 2:10:02; and Abdi Abdirahman, who will compete in his fifth Olympics and at 44, is the oldest American runner to be part of an Olympic team.