UW Students Can Win Prizes Like Tuition For Getting Vaccinated | New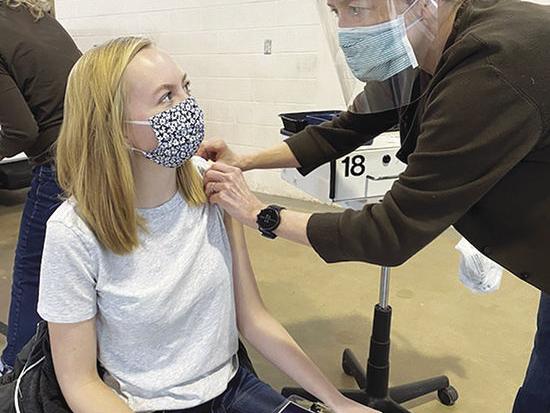 [ad_1]

LARAMIE – University of Wyoming students who report being fully vaccinated against COVID-19 have the opportunity to win tuition and semester fees, as well as other prizes, including cash, a campus parking pass, pre-game football passes and a dinner with President Ed Seidel.
The UW Student Immunization Incentive Program began July 12, with $ 300 in cash along with other prizes handed out weekly through week six of the fall semester on September 27.
Two grand prize winners, covering up to $ 4,500 in tuition and fees, will be drawn for the fall semester – one the week of August 23, the other the week of September 27 . Two more will be drawn before the end of the year for the spring semester.
"We hope these incentives will help motivate our students to receive the vaccines, which have been shown to be very effective and safe, and are essential for successfully managing the COVID-19 pandemic," Seidel said in a press release. "No matter where they spend the summer, the vaccine is likely readily available to our students in their local communities. For those who are not yet vaccinated or have not declared their vaccinations at the university, these prices are another reason to act now.
While vaccinations are not mandatory for students and UW employees – instead, they are strongly encouraged – students are required to report their vaccinations once they have received them. This allows the university to track the total number of vaccinations. The information is not used for any other purpose except to register those who have declared their vaccinations in the prize draw. University confidentiality protocols are respected.
Students who receive their COVID-19 vaccines should download the documentation from the Student Health Service patient portal. It's as easy as taking a photo of your vaccination document and uploading the photo here: http://patientportal.uwyo.edu, using your usual UW username and password. This is the same portal where students declare their compulsory vaccination against measles, mumps and rubella.
Additionally, students can report their immunizations by emailing photos of their immunization documents to Student Health at [email protected]
Only students who submit their COVID-19 vaccination information to Student Health are eligible for the raffles. Students who submit proof of their first shots will be eligible for the weekly designs; To win the tuition prizes, students must have presented full proof of vaccination (for Pfizer and Moderna vaccines, two doses).
Names will be drawn weekly from the total pool of students who have reported at least one shot.
The UW Foundation, in partnership with Seidel, provides the four prices of the tuition fee and the semester fee. The $ 4,500 scholarship would be reduced by any scholarship amount awarded to a student and is intended to cover only costs that the student or family is obligated to pay out of pocket.
In addition to the grand prize draws the week of August 23 and September 27 for the tuition and fees semester, one winner will be selected each of those weeks for an "A" parking permit, which is not generally available. only for teachers. and staff – and is valued at $ 210 per year.
The weekly draw will be for one winner who will receive $ 300 in cash, along with other prizes. These include pre-game field access passes for UW football games; UW Dining Services Dining Dollar Cards, valued at $ 100 each; and Apple AirPods.
In addition, five students will each win the prize of a dinner for six with Seidel and her partner, Gabrielle Allen, at the Marian H. Rochelle Gateway Center. Also included will be catered dinners with Provost and Executive Vice President Kevin Carman, as well as student associates of UW President Hunter Swilling of Cheyenne.
"Gabrielle and I strongly support these vaccinations, which are truly a triumph of science and are responsible for the decline in COVID-19 infections, hospitalizations and deaths across the country," Seidel said. "We are excited to return to a traditional semester this fall, and as more students are vaccinated our community will be increasingly confident that it will be a safe and healthy semester as well."
"With the recent wave of the highly contagious Delta variant, it is more important than ever that we are all vaccinated. Summer is a great time to take your photo, "Swilling said. "When I got my second dose, I just had a sore arm and a fever for about a day, and it's much better than getting COVID."
Students in the United States can go to https://vaccinefinder.org/search/ and find out where COVID-19 vaccines are available. They can even narrow down the search to look for a particular type (Pfizer, Moderna, and Johnson and Johnson) within a radius of up to 50 miles of the zip code they entered.
As of July 6, 1,665 individual students reported having received at least one dose of a COVID vaccine on the patient portal, with 2,975 total vaccine doses reported. Of the 1,379 students enrolled in the summer session, 337 – 24.4 percent – reported receiving at least one dose on the portal.
"From a separate recent survey, we know that only about half of our students who reported receiving the vaccines actually reported being vaccinated at university. This means that our actual student vaccination rate is probably much higher, "Seidel said. "This incentive program aims not only to increase the vaccination rate, but also the reporting rate, so that we have a better idea of ​​the situation in our community. "
As of July 6, 2,365 of UW's 3,240 beneficiary employees – 72.9% – reported having received at least one dose of vaccine. Adding in non-recipient employees, some of whom are students, 3,691 of 6,872 total UW employees – 53.7% – reported receiving at least one dose.
[ad_2]